My first own game, Amazing Tetris, is nearing completion and I am now looking for musicians.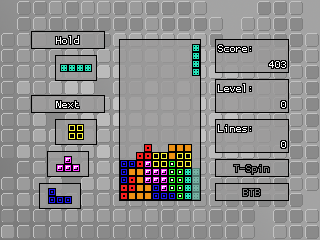 Amazing Tetris is a regular Tetris clone with a few gimmicks programmed in Pascal using Allegro.pas. It was our Computer Science team project 2012 at school; now I'm reprogramming my team mates' parts and also improving a few things for the sake of being able to call the game "my own" and to host it on my site. It is mostly compliant with the official Tetris guidelines and therefore in the current version feels a lot like Tetris DS. There is, however, still one important thing left: The music.
Currently Amazing Tetris uses the music and sound effects of Tetris on Game Boy as a placeholder. Since I want to avoid potential copyright issues I'll have to replace those resources before releasing the game. Free legal sound effects are pretty easy to find on the internet, but that's not the case with music. Therefore I'm looking for a musician to help me out with the game's music. What I need are mostly a few tunes for the menu as well as some gameplay music, including a Remix of Korobeinki. If you are a good musician and interested in helping out or if you know another good musician please contact me.